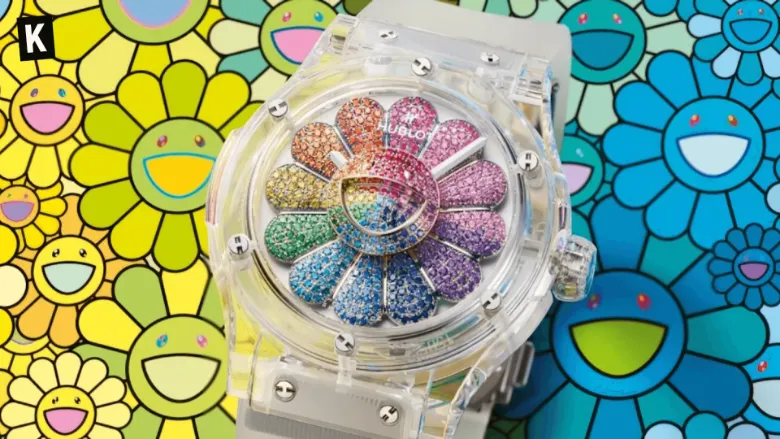 Takashi Murakami, the renowned Japanese artist, and Hublot, the Swiss luxury watch brand, have come together once again to create a unique collection of 13 physical watches that are paired with non-fungible tokens (NFTs). This collection is inspired by the 1970's Japanese television shows and video games and offers fans a unique blend of tradition and innovation.
The latest watch, the "Classic Fusion Takashi Murakami Black Ceramic Rainbow," is a 45mm timepiece that is likely to become a sought-after item among collectors. The design combines Murakami's signature smiling flower motif with a black ceramic case and a rainbow of colorful gems, both of which were features in the previous collaborations between the artist and the watch brand.
To create the Murakami watches, Hublot engineers have developed a ball-bearing system that enables the flower petals to spin as the wrist moves. This gives the timepiece a dynamic and playful feel, while also providing a visual representation of the passage of time. The center of the smiling flower is set on top of crystal, creating a 3D effect, and the 12 flower petals are set with single-hued gems, including rubies, sapphires, topaz, and amethysts. In total, there are 384 gemstones.
When the opportunity to work with Hublot was first presented to Murakami, the artist was initially hesitant. However, he was eventually won over by the prospect of creating "super unique stuff." At a conference in New York, he spoke about how a watch is more than just a tool to tell time and is instead like conceptual art because it presents "the concept of time."
The remaining 12 watches from the collection will be unveiled at the Watches & Wonders event in Geneva, Switzerland, next month. To purchase the corresponding physical watch, buyers must first acquire the NFT, which is priced at 50,000 Swiss Francs, or approximately $54,000. The collection is limited, with the opportunity to purchase the 13th watch only available to collectors who acquire all 12 NFTs. If all of the NFTs are not collected, the 13th watch will be auctioned off by Hublot for charity.
Tying physical objects to NFTs is becoming an increasingly popular trend among brands and artists. Whiskey brand Johnnie Walker, for example, recently partnered with Web3 platforms Blockbar, Vayner3, and 88rising to release an exclusive NFT collection. To receive the physical bottle of Johnnie Walker Blue, holders must burn their tokens, which feature artwork from digital artist "VANDYTHEPINK."
TIMEX, the watch manufacturer, has also entered the NFT space with a limited run of 500 Ape-themed watches linked to NFT wearables. The IRL watches feature Bored Ape and Mutant Ape engravings and were only available to BAYC NFT holders. They were priced at 2 ETH, which was around $2,500 at the time.
Finally, Nike has teamed up with Division street to release an AR football helmet NFT collection featuring 291 digital wearable helmets. Each NFT helmet is tied to a physical University of Oregon football jersey designed by Todd van Horne.
Stay ahead of the game with our NFT News.
Boost your knowledge about NFTs with our NFT Encyclopedia.