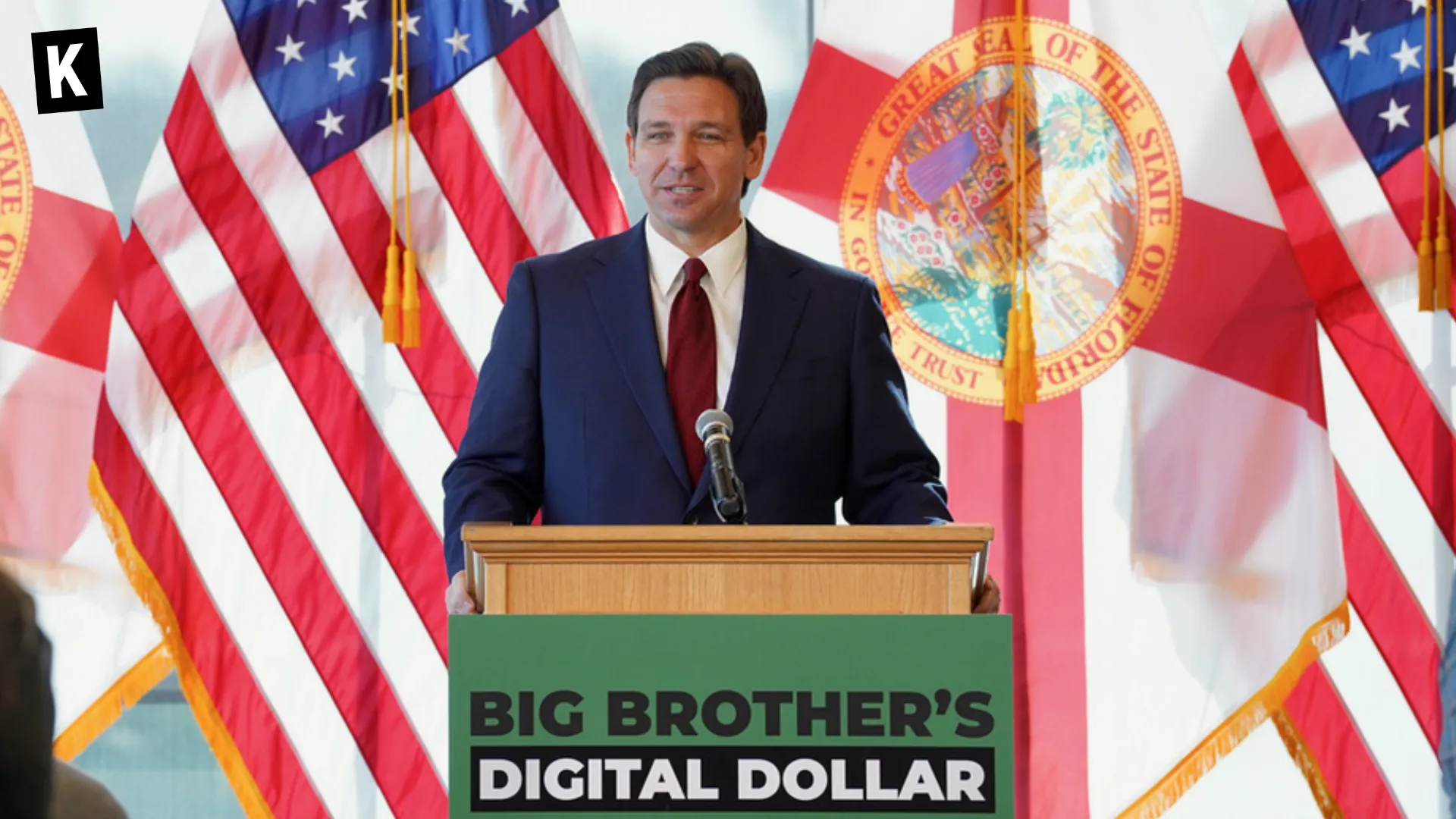 In a move that could have implications for the future of Central Bank Digital Currencies (CBDCs) in the United States, Governor Ron DeSantis of Florida has announced legislation that would prohibit the use of a federally issued CBDC or a CBDC from another country in Florida's Uniform Commercial Code. The announcement comes amid concerns that the adoption of CBDCs could lead to increased government control and surveillance.
Protecting Floridians from CBDCs
In a press release, Governor DeSantis stated that the purpose of the bill is to "protect Floridians from the Biden administration's weaponization of the financial sector through a Central Bank Digital Currency." He added that the legislation is necessary to "prevent the proliferation of woke ideology into the financial sector." DeSantis made his announcement at a public appearance where he spoke from a lectern reading "Big Brother' Digital Dollar". He further stated :
We will not adopt policies that threaten personal economic freedom and security.
Preventing Nationwide Proliferation
The Governor encouraged other states to follow in Florida's footsteps to "fight back against this concept nationwide." However, his call has yet to be answered by governors from other states. Many state and federal agencies have voiced concerns over cryptocurrencies in recent months, following the collapse of FTX.
According to Governor DeSantis, the adoption of a CBDC is more about control than offering better financial services. He believes that the Biden administration's efforts to inject a Centralized Bank Digital Currency is about "surveillance and control" and that it will stifle innovation and promote government-sanctioned surveillance.
A Pro-Crypto Stance
Although opposed to CBDCs, Governor DeSantis is seen as pro-crypto in general. He has proposed a program that would allow businesses to pay state fees using cryptocurrencies. The state of Florida, and the City of Miami in particular, are known for their friendly approach to Bitcoin and cryptocurrencies.
Unlock the Secret to Bitcoin Investing: Learn How to Buy Bitcoin Like a Pro!
Governor DeSantis has also voiced concerns about the potential dangers of CBDCs in the past. In March last year, he stated that he sees "a lot of hazards" with centrally controlled digital currencies as "someone in a central authority" could "basically be able to shut off access to purchasing certain goods."
Florida's legislation to protect against the adoption of CBDCs is a bold move that could have significant implications for the future of digital currencies in the United States. As other states consider their stance on CBDCs, it remains to be seen if Governor DeSantis' call to action will be heeded. Nonetheless, his efforts to safeguard Floridians from potential financial surveillance should be applauded.
Stay ahead of the game with our Regulations News.
Boost your knowledge about Crypto with our Crypto Encyclopedia.