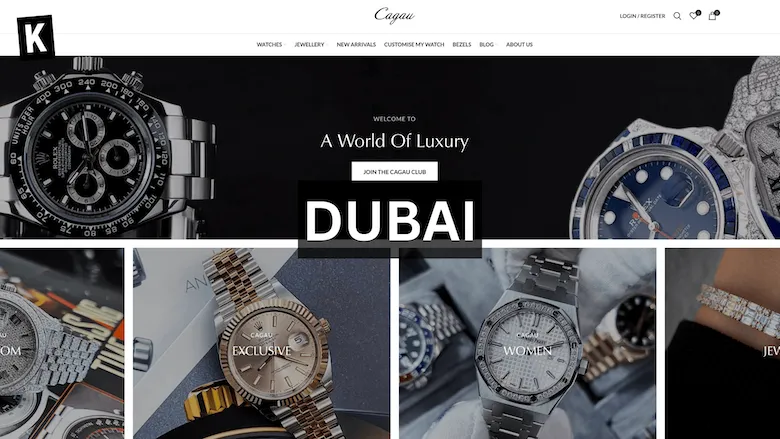 Discover the Best Selection of High-End Watch Brands at Cagau
At Cagau, customers can expect to find a diverse range of luxurious watch brands, including the likes of Rolex, Audemars Piguet, Patek Philippe, Cartier and more. These renowned brands are synonymous with quality, durability, and style, making them the perfect base for customizing your very own timepiece. Whether you are searching for a timeless classic or a more contemporary and unique design, Cagau has a brand to suit your needs.
Unleash Your Creativity with Cagau's Custom Watch Services
Cagau combines the impeccable elegance of these iconic watch brands with their own expert customization techniques to create truly one-of-a-kind timepieces. With the ability to personalize everything from the watch face to the band, you can design a watch that perfectly reflects your individual style and personality.
Enjoy Convenient and Secure Payments with Cryptocurrency at Cagau
Cagau not only offers an exceptional selection of high-end watches, but they also make payment convenient and secure by accepting cryptocurrency as a form of payment. Whether you prefer to use Bitcoin, Ethereum, or any other popular cryptocurrency, Cagau provides a safe and secure way to complete your purchase.
Ready to Join the Bitcoin Revolution? Here's How to Buy Bitcoin Safely and Easily!
Visit Cagau's Website and Start Designing Your Custom Watch Today
Visit the Cagau website to start designing your own custom watch and experience the perfect combination of style, quality, and convenience. With a wide selection of luxurious brands and the ability to personalize your timepiece, Cagau is the perfect place to create a watch that truly represents who you are.

In conclusion, Cagau is a custom watch company in Dubai that offers a wide range of high-end watch brands, exceptional customization services, and secure cryptocurrency payments. Whether you are searching for a timeless classic or a one-of-a-kind design, Cagau has everything you need to create your dream timepiece.